Welcome
Welcome to The Learning Pathway.

Join me on my journey to discover the mechanics of learning through the perspective of a mechanic - an automotive mechanic.

Drive the Pathway
What if we focused on our learning skills as we do our hobbies and jobs?

What if we could get on the road to becoming an expert learner?


Pathway Sponsors

Tuesday, February 2, 2010 @
01:02 PM

Jan. 20 2010
Seeing through the eyes of a mechanic? Let's first consider what it is to be a mechanic. A popular definition is someone who builds, maintains and repairs mechanical systems, i.e. a "nuts and bolts" person who works with their hands. In my opinion, this is an incomplete definition. Read More
Thursday, February 11, 2010 @
04:02 PM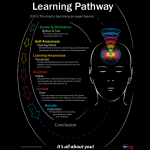 Feb. 11, 2010
The Journey to the Learning Pathway
Most of my seminars are exercise based, especially the Wiring Diagram Color-Coding class. Often, while performing the exercises, I noticed something interesting about those that are having difficulties with the diagrams. More often than not, the difficulties are not the result of a lack of knowledge about circuits and diagrams. Instead, it's a lack of knowledge regarding the techniques of dealing with them. In other words, it's like seeing the diagram as a bag full of parts and not knowing how they fit together.
Monday, November 15, 2010 @
04:11 PM
Tuesday, May 25, 2010 @
07:05 PM
One day this spring at Royal Arches Cascade in Yosemite Park.
1250 foot cascading water fall that pulses and glides down the left side of the Royal Arches.
The base of the falls is accessed via a short hike from the Ahwahnee Hotel. Follow the 3rd class climbers trail toward Serentity Crack. Take the first obvious ramp and climb up along the cliff to the falls.
For climbers, the best way to get there is to climb Peruvian Flake (5.10a finger and hand crack) which tops out to the ramp that leads to the falls base.
It is very exciting to stand at the base of the flow with the wind blowing, the noise of the falls and the crashing of the pulsating water. A must do when the water is at peak flow!
NOTE: After you start the video, select 720p for best resolution/download speed. Then, go full screen.
Wednesday, April 21, 2010 @
11:04 PM
This has been a great year for wildflowers. This year the spring rains have been plenty and the tempuratures have been cool. The result has been some great wildflower displays.
Ladies: White = Bird's-Eye Gilia
Ladies: Purple/Blue = Dichelostemma (Purple Dicks)
Location: Fresno area foothills Big Sandy Mountain bike trail – San Juaquin River Trail
Date: April 8 2010 Camera: Canon 7D.
Lenses: Canon 28-135 & Tamron 17-50
Conditions: Mid day full sun.
Setting: Fully auto – Neutral
If climbing Mt. Everest were easy no one would care. — Jorge Menchu