Welcome
Welcome to The Learning Pathway.

Join me on my journey to discover the mechanics of learning through the perspective of a mechanic - an automotive mechanic.

Drive the Pathway
What if we focused on our learning skills as we do our hobbies and jobs?

What if we could get on the road to becoming an expert learner?


Pathway Sponsors

Archive for the 'Color Coding' Category
Wednesday, February 10, 2010 @
10:02 PM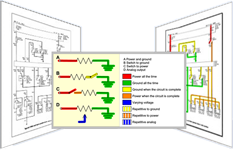 February 10, 2010
Wiring Diagram Color-Coding is a system that uses colors to identify and mark expected voltage conditions within a circuit. It is a powerful system that has multiple applications, including:
It is an excellent tool for teaching circuits, diagrams and circuit based strategies.
For the working tech, it speeds up DC circuit wiring diagram analysis.
It is an extremely unique tool for discovering and teaching the mechanics of learning.