Welcome
Welcome to The Learning Pathway.

Join me on my journey to discover the mechanics of learning through the perspective of a mechanic - an automotive mechanic.

Drive the Pathway
What if we focused on our learning skills as we do our hobbies and jobs?

What if we could get on the road to becoming an expert learner?


Pathway Sponsors

Wiring Diagram Color-Coding
Wednesday, February 10, 2010 @
10:02 PM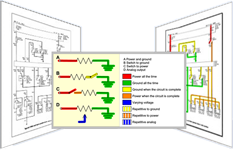 February 10, 2010
Wiring Diagram Color-Coding is a system that uses colors to identify and mark expected voltage conditions within a circuit. It is a powerful system that has multiple applications, including:
It is an excellent tool for teaching circuits, diagrams and circuit based strategies.
For the working tech, it speeds up DC circuit wiring diagram analysis.
It is an extremely unique tool for discovering and teaching the mechanics of learning.
I first introduced Wiring Diagram Color-Coding in my waveform analysis seminars, almost 20 years ago. At the urging of my good friend, Richard Esqueda of Santa Barbara, California, I eventually built a full day seminar focusing on wiring diagram analysis and Color-Coding.
It did not take long before I realized the value of Color-Coding to the learning process. Today, my seminar is as much about the way we think and solve problems as much as it is wiring diagram analysis.

Articles
Links for currently published information:
Mastering Complex Diagrams – July 97 issue of Motor Magazine. This is my first published article regarding Color-Coding. Half the fun was drawing the illustrations. One of which was used as the magazine cover art.
Wiring Diagram Color-Coding: More than meets the Eye – Dec. 2008 issue of Motor Magazine. In this article, I wanted to include some of the reasoning that fuels Color-Coding. I also wanted to give a feel for the bigger process of Color-Coding beyond just marking voltage conditions.

Seminars
Note that I only book a few seminars a year. My ultimate goal is to provide my information online but that will take a while. Until then, please take note of these resources: